What Characteristic Is There The Structure Type And Movement Form Of Rocking Head Flying Chair ?
The flying chair is a typical product of flying tower in large type of amusement facilities. It is characterized by hanging the seat on the Rotating parachute stand with flexible parts, rotating the tower through the transmission mechanism, and at the same time, the hydraulic lifting device makes the whole cockpit of the parachute rise and fall, as well as change the inclination movement, and rise and fall back and forth. Tourists are flying in the sky like a parachute, thrilling and soul-stirring. Coupled with the flight appearance and sound that attract tourists, it is a kind of flight tower amusement project which is more exciting and suitable for teenagers. The flying chair is mainly composed of base frame, Revolving transmission device, rotation transmission device, hydraulic lifting system, electrical control system, as well as rack, connecting cylinder, column, bracket, turntable, seat, safety protection device, luxury fiberglass cover and so on. The schematic diagram of the structure is shown in the diagram 1-8.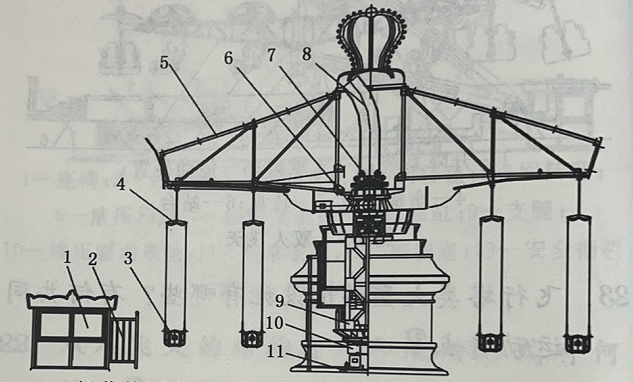 1.Operation control room;2.Safety fence;3.Seat;4.Hanging assembly;5.Rotating parachute stand;6.Hydraulic lifting device;7.Guided taxiing frame;8.Guide curved rail;9.Rack;10.Transmission mechanism;11.Base.