Amusement Park Feiyue Planet 18 amusement equipment|Theme Park kids amusement Equipment For Sale
| | | | | | |
| --- | --- | --- | --- | --- | --- |
| Track: | 500*1160cm | Voltage : | 220V-380V | Rotating motor: | 800w*l |
| Diameter: | 330cm | Power : | 6KW | Speed : | 0.98m/s |
| Specifications : | 600*h310cm | Operating motor: | 800w*2 | Weight: | 800kg |
| Transportation Cuber : | 35m3 | Age : | 6 years and older (including adults) | seat: | 18 |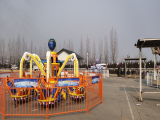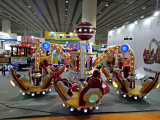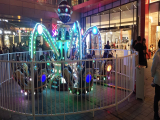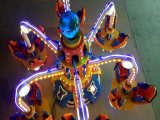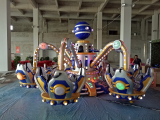 The hydraulic principle is adopted to make the arm rise.
The difference from other equipment is that it's oil pump motor automatically will stop water work when the pressure reaches,increase the life of hydraulic equipment and save power. Each seat comes with a 360° rotation, which increases the degree of playability.
With reasonable parent-child seat design, it's suitable for all ages. The slope of the ascent and the rotation of the seat bring safety and excitement experience.The dazzling lighting design, the beautiful music melody, and the flying up and down of each bent arm are pleasing to the eye.
With 18 seats, it brings rich benefits to the venue. It is a great choice for both indoors or outdoors.